JOB CORPS

JOB CORPS is the nation's oldest and largest federally funded job training and education program for low income out-of-school youth ages 16-24. Established in 1964, Job Corps has trained and educated more than 2 million young people to date, serving approximately 62,000 young adults each year.
Training and Education Students receive hands-on career training in more than 100 occupational areas including health occupations, construction-related fields, culinary arts, business and technology-related industries. Students can also participate in on-the-job training at real work sites through work-based learning opportunities. In the academic classrooms, students can earn a high school diploma or GED, and learn employability and independent living skills. Job Corps is a drug and alcohol free program and upon enrollment, all students are tested for drugs and alcohol.
Where is Job Corps?
There are currently 122 Job Corps centers located in 48 states, the District of Columbia and Puerto Rico. To support these centers, Job Corps manages outreach, admissions and career transition operations in hundreds of locations nationwide.
DORS (Division of Rehabilitation Services)

DORS is an agency of the Maryland State Department of Education. DORS is composed of the public vocational rehabilitation (VR) program and the Disability Determination Services.
The Office of Field Services, which prepares people with disabilities to go to work or helps them to stay on the job. Rehabilitation counselors in offices throughout Maryland provide or arrange for services that may include career counseling, assistive technology, vocational training and/or job placement assistance.
Veterans
The Veterans Program is to promote and maximize the employment of veterans, especially veterans with barriers to employment, utilizing the complete menu of American Job Center resources.
JOB PLACEMENT AND TRAINING
Qualified staff at the American Job Center provides a myriad of priority customer-driven workforce services to veterans, military members and families.
DVOP/LVER STAFF
American Job Centers are staffed with a network of professional Disabled Veterans Outreach Program (DVOP) Specialists and Local Veterans Employment Representatives (LVER) staff who are tasked to provide priority workforce services to veteran customers. DVOP staffs focus on providing intensive case management services to veterans with barriers to employment, disabled veterans, etc.
LVERs conduct outreach to employers and engage in advocacy efforts with hiring executives and managers to increase employment opportunities for veterans. LVER staff are also responsible for ensuring that veterans are provided the full range of priority workforce services in the American Job Center, providing functional oversight over the one stop Veteran's Program and service delivery strategies and services targeting veterans.
DHR (Department of Human Resources)
The Maryland Department of Human Resources (DHR) is the state's primary social service provider, serving over one million people annually. The Department, through its 24 local departments of social services, aggressively pursues opportunities to assist people in economic need, provide preventive services, and protect vulnerable children and adults in each of Maryland's 23 counties and Baltimore City.
U.S. VETS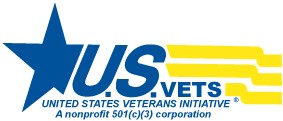 U.S.VETS mission is the successful transition of military veterans and their families through the provision of housing, counseling, career development and comprehensive support.
U.S.VETS' programs are designed to help veterans transition from life on the streets into a stable home through outreach, service-enriched housing, case management, counseling support, and employment.
U.S.VETS – Washington D.C. seeks to provide a continuum of care so veterans can seamlessly progress from one stage to the next, receiving the assistance they need to improve their lives. Services offered in the Washington, D.C., Maryland (Montgomery County and Prince George's County), and Northern Virginia areas are:  Workforce Services through HVRP and Career Development Initiative, Permanent Supportive Housing for disabled veterans, Supportive Serves for Veterans families (SSVF) for at-risk and literally homeless households, and  transitional housing for homeless veterans.